It's no secret that people in the restaurant industry are great with multitasking, working under pressure, and working with a wide range of personalities.
But why should they consider getting their real estate licence?
How can that transform their life and their business?
In this article, we'll highlight the Top Five Reasons to transition from the Restaurant Industry to Real Estate.
We'll also show you why people with a restaurant background tend to make great real estate agents, how to determine if real estate is for you, and where to start.
The article contains:
Click on the link to jump to a specific section.
Is a real estate career for you? Find out by taking our 2-minute quiz.
Join 10,000+ Happy Students
Get Your NY Real Estate License
Join 10,000+ Happy Students
Get Your NY Real Estate License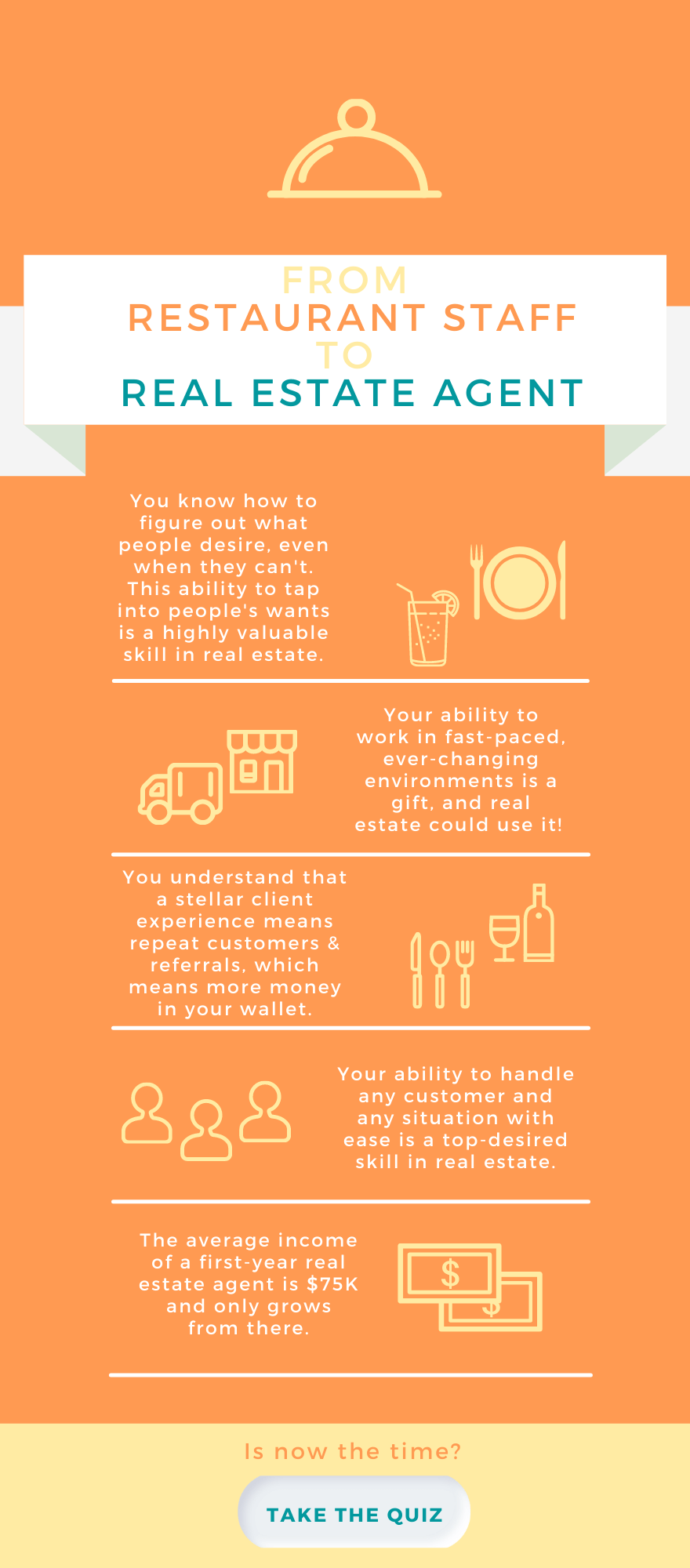 Reason #1: Good restaurant workers value the customer experience.
Whether you work in FOH or BOH, people in the restaurant industry are experienced in delivering exceptional customer service. The industry teaches people how to handle difficult customers and work with a wide variety of personalities, which is a key skill for agents who work with a diverse set of clientele.
One of the best skills earned by working in a restaurant environment is how to build relationships with customers. Being personable and approachable are both essential skills for working in real estate. When agents have strong relationships with their clients, it makes the home buying or selling process much smoother.
Reason #2: Good restaurant workers are able to multitask.
Working in a restaurant requires you to be able to multitask and move quickly through different stations or tasks – oftentimes juggling multiple demands at one time.
Similarly, when you're a real estate agent, you're constantly dealing with clients, managing multiple deals at once, and juggling a number of tasks. Having experience multitasking, even in a fast-paced environment, is essential in the real estate industry.
Join 10,000+ Happy Students
Get Your NY Real Estate License
Join 10,000+ Happy Students
Get Your NY Real Estate License
Reason #3: Good restaurant workers can work under pressure.
Restaurants, in general, are fast-paced environments. For BOH positions, this could mean the line receiving thirty tickets at once or keeping up with a flood of dishes on a busy night. For FOH, you may be required to serve multiple sections or seat hundreds of people on a busy night. 
Being able to handle stress and work under pressure is a huge part of being a successful real estate agent. Real estate agents must be able to stay calm and focused when things get hectic or a deal isn't going as planned.
However, the day-to-day life of a real estate agent is significantly less intense, allowing restaurant workers to leverage their ability to work under pressure in a more manageable way.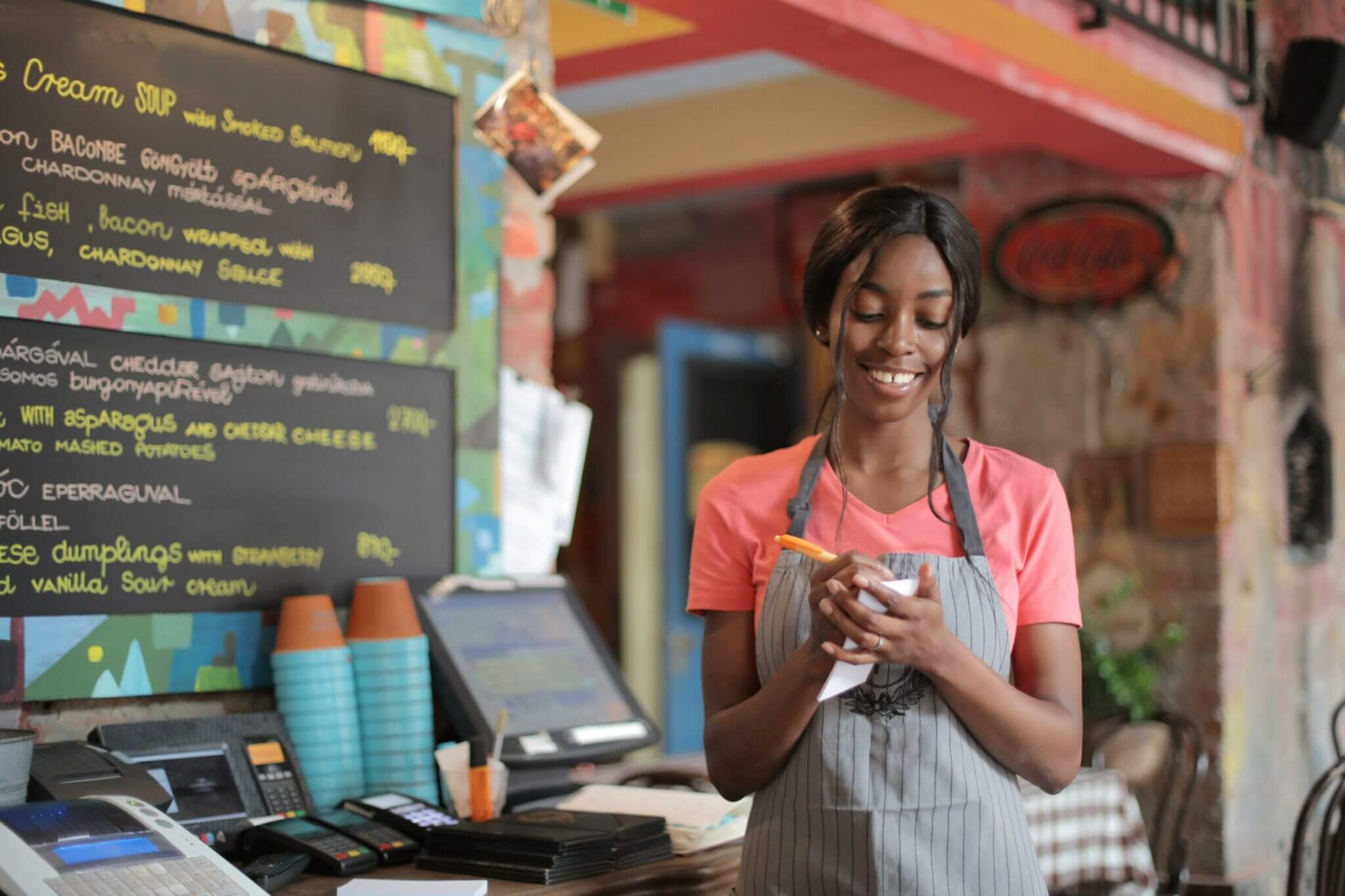 Reason #4: Good restaurant workers are quick learners.
Restaurant workers are constantly learning new things. New menu items, new cooking techniques, new cleaning methods- the list goes on and on. They have to learn fast and adapt quickly in order to keep up with the ever-changing restaurant industry.
The real estate industry is constantly changing too. Real estate agents must be able to learn about new real estate laws, new technology, and how to market properties as market trends change. The best real estate agents are always looking for new ways to improve their business and can pick up on the new concepts they learn quickly.
Reason #5: Good restaurant workers earn WAY more selling real estate.
Restaurant workers typically earn a set hourly wage no matter how busy or intense their shift was. Additionally, some restaurant workers may earn tips that rely on their customers' experience, which may not always be great during a busy night. 
Overall, the income structure of a real estate agent allows for a much larger earning potential than what restaurant workers make and ensures their hard work is reflected in their paycheck.
Real estate agents can make $75,000-$100,000 in their first year alone and it only grows from there. The best agents can make anywhere between $500,000 and $1,000,000 a year!
Should I Become A Real Estate Agent?
The answer is simple.
If you are able to multitask, work under pressure, want to make your own schedule, and significantly increase your income, getting your real estate license sounds like a no brainer.
To get started, click apply to learn more about our fast track real estate bootcamp.
Or, if you still have some doubts, take our 2 minute quiz to find out if real estate is your calling.
Join 10,000+ Happy Students
Get Your NY Real Estate License
Join 10,000+ Happy Students
Get Your NY Real Estate License