By Eddy Boccara, Dakota O'Brien and Jonathan Agostino
In order to feel good about spending money on marketing and image, a company has to know if a customer's business is worth the effort. To understand how valuable a consumer is, many companies measure something called Customer Lifetime Value (LTV).
Customer Lifetime Value (LTV) is the total revenue that a consumer is expected to generate over the duration of their account.
Let's say someone buys a monthly Netflix subscription – Netflix is now interested in tracking the total worth of that customer until their departure, or churn, from Netflix's services.
What happens if we put this metric in the context of real estate brokerages and their agents?
What is Agent Lifetime Revenue (ALR)?
Real Estate firms can take a page from this playbook and analyze their agents the same way tech companies treat customer acquisition– agents aren't just employees, they are a consumer of the brokerage itself.
It takes time and resources to attract and hire an agent. With this in mind, we can ask the same question that a metric like LTV looks to answer: how much is an agent worth over the duration of their association with a brokerage?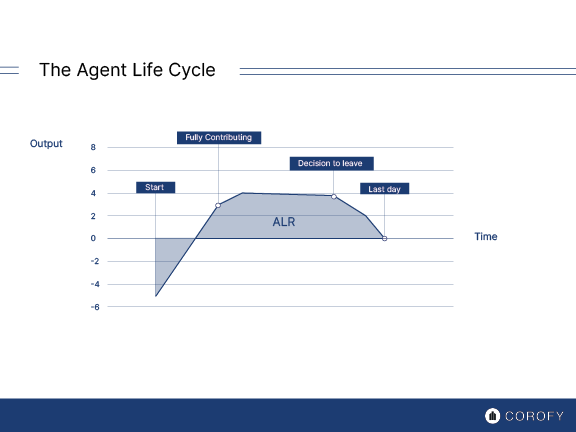 Agent Lifetime Revenue (ALR) is the total revenue that an agent is expected to generate over the duration of their association. In essence, it's the ROI of hiring an agent.
Calculating Agent Lifetime Revenue: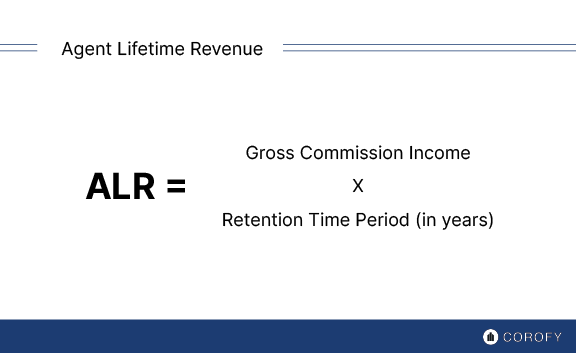 Here, GCI is Gross Commission Income, or agent revenue produced per year, and retention time period is the duration of an agent's association (in months).
Let's say an agent is expected to produce $100,000 in Gross Commission Income per year, and the average retention time of your brokerage is 18 months. First, convert retention months into years– here we have 18 months which is 1.5 years. We then simply multiply $100,000 by 1.5 years to get an expected Agent Lifetime Value of $150,000.
Why is Agent Lifetime Revenue Important?
As a general metric, ALR speaks for itself. Of course you want to know how much value an agent provides to your brokerage. But it can do more than just state value over the duration of employment– it can be a prediction tool, helping to optimize your recruiting from the beginning.
Perhaps more experienced agents, ones with a shorter onboarding and training process, can begin generating revenue quicker than new agents. Should you tap into a pool of new talent, or should you focus on hiring seasoned salespeople? Understanding ALR can answer these considerations, and Corofy's metrics provide the data to get you there.
You need two key pieces of information to calculate ALR: retention time and gross commission income. But not all data is created equal. Corofy can help you target a specific agent to more accurately predict lifetime value. Knowing the value of a prospective agent is key in deciding how to recruit them.
Most leading brokerages in New York City will attribute the success of their agents to the quality of their training offerings – a huge determinant of whether an agent will last longer than 12 months in the industry.
"The higher the Agent Lifetime Revenue, the greater the profits. You'll always have to spend money to acquire new agents and to retain existing ones, but the former costs five times as much. When you know your Agent Lifetime Revenue, you can take the steps to improve it"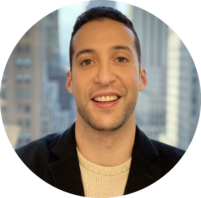 Eddy Boccara – CEO, Corofy
ALR goes hand in hand with another metric, Hiring Agent Cost (HAC). By comparing the two you can generate an ALR:HAC ratio.
This metric tells you how efficient your recruiting expenses are in the context of how much revenue your agents will eventually generate. In simple terms, it tells you how much you should be spending to hire a new agent. The higher the ratio, the greater your ROI is on hiring an agent.
Want critical, easy-to-access metrics at your fingertips? Keep your brokerage ahead of the game with valuable analytics from the Corofy Dashboard.